Make the most of your Range Session
A practice plan to manage your 45 minute range session
5 Minute Warm-up
Use the 5 minutes while you are waiting to do some warm up exercises and get ready to move.
Start with a few jumping jacks
Leg swings front to back and side to side
Shoulder/arm rotations starts small getting larger (think airplane wings)
Neck circles
Ankle circles
Lunge twists to move the hips
Jump in place (think power from ground up)
On the Range
Warm Up
5 minutes:  60% speed with 7 or 8 iron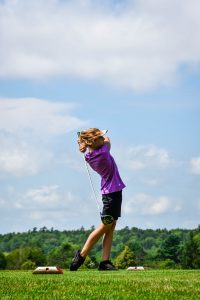 Full Swing
8 minutes: full swing with 6,7,8 irons
Wedge Practice
15 minutes: start with half swings and work to full swings
Full Swing
12 minutes: hybrids, fairway woods and drivers
Be your own Golf Coach
1.Pay attention to your body: Go easy
Focus on balance and stop if things start to hurt. You are just waking up your golf muscles
2. Pay attention to patterns:
Is the ball flying left or right all the time?
Use a rangefinder or estimate how far balls are flying
This info will help you prepare for your next session.
Enjoy your time outside!
Sara Wilson
PGA of Canada